Yoyoyo Acapulco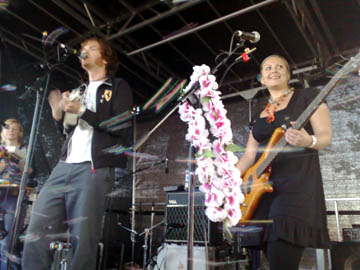 Bio Norwegian Antifolk?!?
Press Quote:
Review - By:Larm
(By:larm is like a small South by south west happening over three days)
Gratisbutikken. The crowd : Having a good time The gig : Cosy
"As if the name Yoyoyo Acapulco wasn't weird enough, the band employs unusual instruments such as ukulele, a French sounding organ and kazoo. In combination with soap bubbles, flowers and pictures of snowy mountains as a visual backdrop, their original sound set a nice atmosphere at gratisbutikken last night. Yoyoyo Acapulco tries to charm their way into the hearts of the crowd with cosy indiepop and funny lyrics. And it works. They are probably the most loveable band playing by:larm this year."- Erling Rognes Solbu
Why They're So Antifolk

Because the Antifolk movement is the only scene where bands can relax, not having to many concerns if the lyrics, the beat and style will fit the current hype. I make lyrics with naive, childish rhymes on one track, and speak about female orgasms and weed on the next, while playing a small white ukulele - the whole mocking of the bigfuzz serious rockers, or sad sad emoindiekids who allways sing about lost love, a man 190 cm. playing a kazoo and ukulele, -this got to look a bit funny, but do it without the clownish thing in mind, it is a way of giving people an idea that things can be different, simple, and still sound good and have as much energy as a 500 watts Marshall stack. Take what you have, a 5$ drum machine, a kazoo, a simple bassline, and make it work.