The Trachtenburgs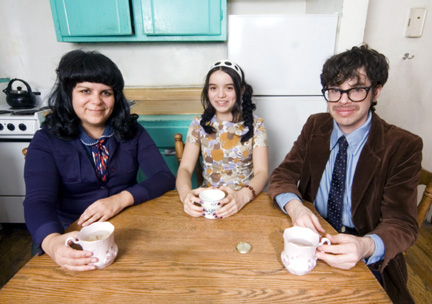 Bio

The world's foremost indy-vaudville conceptual art-rock political traveling family slideshow pop band is proud to be under the far reaching umbrella that is Antifolk.
Jason Trachtenburg started his long and winding musical journey in 1988 in the East Village. His first booked gig was at the Chameleon Club, booked by Lach. Jason Trachtenburg then went on a life long journey towards Chordsville in search of pleasing musical patterns and lyrical double entendres.
The 1990's were spent in Seattle, Washington (the new Liverpool?) where Jason Trachtenburg could often be spotted at open mics, anti-cellular phone mobilization gatherings, and health food stores.1993 also marked the birth of Jason Trachtenburg and Tina Pina's one and only daughter, Rachel Trachtenburg.
Jason Trachtenburg opened up many shows for the multi-platinum selling band the Presidents of the United States of America. Chris Ballew of the P.U.S.A. produced all of Jason Trachtenburg's 1990's recordings including "Revolutions Per Minute" (2000 Orange Recordings) and "Your Favorite Song" (2006 Ghosttown Manitoba.) and Vintage Slide Collections from Seattle, Vol 1 (2003 Bar None.)
In 2000, the Trachtenburg Family Slideshow Players came into existence as a need to perpetuate multi-media music. The concept is as follows. The T.F.S.P. travel to estate sales, garage sales, rummage sales, flea markets, etc. and procure vintage slide collections from anonymous deceased strangers and proceed to transform these newly discovered images into pop-rock musical exposes that tell the story of these lives while simultaneously analyzing the excesses of our overwhelming consumerist culture. (Otherwise, we are a regular pop-rock band.)
The T.F.S.P. have traveled the globe in performance endeavors. They have performed on Late Night with Conan O'Brian and have appeared on MTV, VH1, Fuse, and the Sundance Channel. The band has been featured in countless local and national publications and still has the distinction of being the highest charting slideshow band on the C.M.J.charts (# 79 in Nov. 2003.)

The Band
Jason Trachtenburg-Guitar, Piano, Vocals.
Tina Pina Trachtenburg-Slide Projector, Design, Vocals
Rachel Trachtenburg-Drums, Ukulele, Vocals.
Press
"The Andy Warhols of the underground." MTV News
"The most important band in the world." Pitchfork
"The most talked about band of the new milenium." N.Y. Post
10 Stars ********** N.M.E.
"The Greatest Band on Earth." Veg News

Why They're So Antifolk?

"Antifolk is inherently political by it's very nature. If music does not have meaning(s) then what ?? Voting doesn't work anymore, so all we have left is art. Music and politics go together like rice and beans. Antifolk allows songwriters complete freedom to change the world in ways that the medium (pop songs) can. I am consistently influenced and entertained by whoever the new crop of Monday night superstars are. It will all come out in my autobiography."- Jason Trachtenburg
More at: TFSP