The Venn Diagrams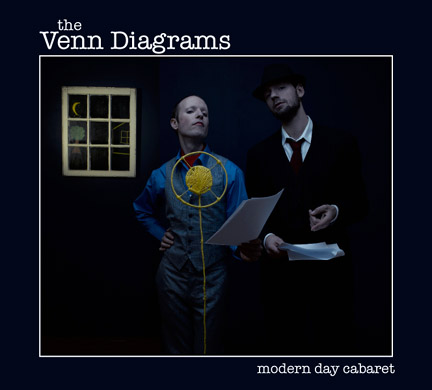 Photography by Heather Courtney
Bio This two man cabaret is Sonny & Cher meets Kurt Weill in a late night uncensored format, blending traditional 20th century French and German cabaret, musical theater selections, pop music deconstruction, and comedy.
Jeffrey Marsh & Rick Sorkin have been performing together for 140 years together. Jeffrey went out on a date with girl once, and Rick has accidently worked in 2 different video stores that specialize in gay porn. They have a YouTube channel (VennPost), and you can follow them on Twitter, become a fan of them on Facebook, or just invite them over for dinner one night (Jeffrey's a vegan, though, so plan accordingly).
Press Quote: "This two man variety talk show has fun with gender while dipping into everything from German cabaret to pop music to audience participation." - Time Out New York.
"Eclectic, gender-bending, comedy / commentary troupe" - Fire Island News
"Stop and see something you don't usually see" – The Philadelphia Inquirer
"Their approach ranges from delightfully silly to intensely dramatic. Although highly distinctive, their interpretations not only respect, but also explore and illuminate the songwriters' intent. What is at work here is not gimmickry, but artistry of the highest order. I knew nothing about The Venn Diagrams before I attended their show; now I hope to see them again and often." -Roy Sander, columnist and critic, formerly of Back Stage and Citysearch
Why They're So Antifolk
The Venn Diagrams couldn't seem to find a home. Too art for rock clubs. Too much pop sensibility for galleries. Too flamboyant for shoe-gazer clubs. Too professional for coffee houses and open mics. Too crazy for boys town. This pro cabaret is Antifolk. The Sidewalk Cafe crowd just plain gets it. So they're not leaving.
More at www.ModernDayCabaret.com