Julie Hill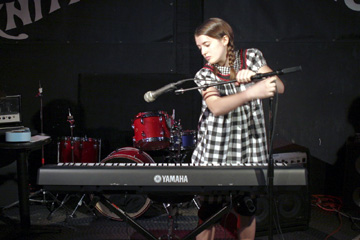 Bio
ulie Hill is a young composer/ singer/ songwriter who plays a piano sometimes, a blue ukulele some other times, and uses a loop machine some other other times. Her music draws from Judy Garland, Fiona Apple, Regina Spektor, and her fellow Anitfolk artists.
hy She's So Antifolk?
To me, Antifolk is a genre of music characterized by an element of simplistic truth. Antifolkers are not afraid to sing what they mean, mean what they sing, and make fun of themselves. I strive to bring out these elements of Antifolk in my music and in myself. But truthfully, I really don't know why I'm Anitfolk....does anyone?
More Julie Hill.