Hamell On Trial





Buy Hamell's newest CD at the Store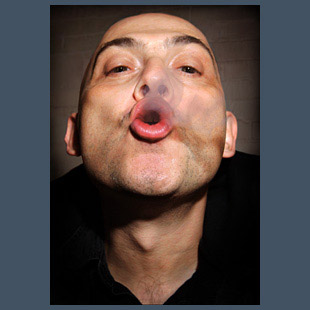 Photo Credit: Chris Saunders
Bio

On stage his raw, bold energy has Rolling Stone magazine calling him a "homicidal Otto Preminger." On more than one occasion, opening act Hamell On Trial sent the headliner band, with all its Marshall amplifiers and Les Paul guitars, running for cover. "I'm a rock and roll show. Period," Hamell says. "I love Iggy and the Stooges, Lou Reed, the MC5. Folk singers bore me. Insincerity incites me."

For years the garrulous and witty Hamell tried to carve out a niche for his artistic vision in a blue-collar Upstate New York town, playing guitar and fronting an all-original band, before going solo. After a brief stint with Blue Wave Records in Syracuse, New York, Hamell decided to take his one-man show elsewhere. As music critic Don Mcleese explains, Hamell needed to move away before "audiences [could] respond to the material as art rather than gossip."

Eventually Hamell ended up in Austin, Texas where the perceptive owner of Austin's renowned Electric Lounge signed Hamell to a Friday night residency. "Mark's great," Hamell says of the E.L. owner. "The first time I played there I alienated half the audience, but still he had the vision to see what it could become." Soon Hamell's weekly audience swelled to a faithful throng of 500.

In May 1994, Hamell On Trial signed with Austin's premier indie label, Doolittle Records. Big As Life was recorded in the warehouse space above the Electric Lounge. Not long after the release of that record, a high-profile showcase at the South-by-Southwest music festival landed Hamell a major label deal with Mercury Records. Mercury re-released Big As Life, which met with widespread critical acclaim, and soon Hamell set about recording his second record for Mercury, called The Chord is Mightier than the Sword.

Hamell On Trial then moved to New York, where he began performing on East Village Antifolk scene and recording his next record for his newly-formed label, Such A Punch Media. Choochtown, recorded almost exclusively in Hamell's basement in Brooklyn, is as raw and bold as a Hamell On Trial show. The record is narratively complex and showcases a cast of drunken and disaffected characters to whom Hamell loves to give voice. "I used to work in a crack bar Upstate," Hamell says. "When you get to know some of those people, you can't help loving them, despite the fact they've messed up their lives. Maybe even because of it. As my wife likes to say, I've paraded more 'nice guy' felons across our living room than she could care to count."

Prior to a debilitating car accident in May 2000, Hamell On Trial toured consistently, impressing audiences from New York to Los Angeles, and logging more than 250 one-night performances each year. "Hotel?" Hamell liked to quip, "I'm driving it!" Now fully recovered from his head and spine injuries, Hamell is back on the road (albeit more judiciously) and recently completed a sold-out East Coast tour with Ani DiFranco.

Choochtown, scheduled for European release in the summer of 2001 but delayed while Hamell recuperated, was released on British label Evangeline Records in February of 2002. Hamell´s latest was what his European friends had long been waiting for. Choochtown received a 5-star review in Uncut magazine ("Absolutely brilliant!"), and Hamell´s first European tour met with sold-out shows in London and Ireland. Since then, the ever-energetic Hamell has mastered and released on his Such-A-Punch label a live record entitled Ed´s Not Dead--Hamell Comes Alive, recorded while on tour with Ani DiFranco.

On Feb.7, 2006 Righteous Babe released Songs For Parents Who Enjoy Drugs with Ani producing and playing on the disc. With his battered 1937 small-body Gibson, Hamell checks the pulse of the nation and gives it to us straight. And we're glad he does.
Why he's Antifolk: Hamell discovered Brenda Kahn, Roger Manning and Lach in the early 90's and never turned back. A veteran of The Fort at Sidewalk, various Antifolk Fests, Hamell is one of the premiere examples of Antifolk playing today.
Press Quotes: Hamell on Trial is Syracuse, New York-raised Ed Hamell, who led a bunch of bands before going solo and acoustic after a benefit concert one-off. No folk-punk or antifolkie plays harder or louder. His debut on the label of fellow traveler Ani DiFranco, featuring a neat alt-celeb studio band, isn't as undeniable as 2000's self-released, story-filled Choochtown. But Hamell hasn't lost his knack for describing true crime and evoking existential outrage. Love and mortality also interest him, sometimes in tandem--"When Destiny Calls," which mixes coke dealing with child rearing, or "Tough Love," about a sociopathic couple bringing their hots to your town. But on the whole, Hamell sides with God, who gets the lead role in the tone-setting Don't Kill."- Robert Christgau- Blender
More info at Hamell On Trial.