Erin Regan
Antifolk Home Page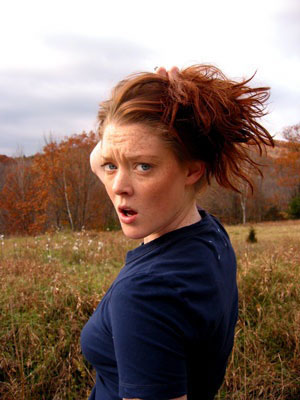 Erin Colleen Regan was born in Alexandria, VA in 1983. She began singing in churches when she was only a toddler, and idolized Paula Abdul. She was raised in Winchester, Virginia and had very little teeth. The struggles of poverty inspired her at an early age and she began writing poetry.

I saw a man today, in the Tastee Freeze He had on a Nascar hat, shirt, and jean jacket. He ordered the tater tots, but I know what he really wanted. I know.

At age 9, Erin moved to northern Virginia to live with her grandmother, where she was immediately placed on the swim, soccer and gymnastics teams. She also found herself in every church musical, from "The little Southern Baptist that Could," to "Jesus says to eat your Meatloaf, (or else)."

Bored stiff and a little too "aware" for her age, Erin began writing songs on the piano. She wrote love songs for animals. She wrote a song about how she wanted to save all of the worms that dry on the sidewalks after it rains (and actually tried until she found it futile.)

At age 13, she moved in with her mother and her three younger siblings. Between school, baby-sitting, and going out of her way to piss her mother off, Erin found very little time for a creative outlet. Until she turned 14, when a letter from her father inspired her to write a song on the guitar she had received for her birthday. She played this song for her music teacher who, through tears, told her to "never stop writing. It will keep you alive."

That same year Erin received an invitation to play at the "World Congress of Music Therapy" at the Omni Shorham in Washington D.C. Erin recalls, "when I played on stage that night for the first time, I felt something. I mean, I really felt something. Like I could change things, you know?? I wanted everybody to, "get it." Whatever,"it," was, I don't know, but I knew that I could never stop playing."

And she hasn't since. She set out on her own in November of 2004 to New York City, where she has been playing as much as the scene will allow. With two Antifolk festivals under her belt and a promising residency at Sidewalk in October 2005, Erin hopes that she will soon be reaching many new ears.

"All I want," she says, is for someone who's having a really shitty day to hear one of my songs and feel it in their bones. To know that someone else out there is paying attention to all of the dirty, gritty details in life."
WHY SHE IS ANTI-FOLK:
"I think it's obvious. I've always wanted to sit at the cool table."